Advanced Practice Providers
Welcome to the ACG Advanced Practice Providers Resource Center providing you access to the tools and services you need in the field of gastroenterology.
What's Hot this Month
Earn CME and get quality education designed specifically with APPs in mind.

Learn More

2021 ACG's IBD School and Southern Regional Postgraduate Course

Join colleagues in Nashville for ACG's 1-day IBD School and weekend Southern Regional Postgraduate Course. December 3-5, 2021.

Learn More

2022 ACG's Functional GI and Motility Disorders School & ACG Board of Governors/ASGE Best Practices Course

One weekend. Two courses. Join colleagues in Las Vegas, January 28-30, 2022.

Learn More
Lenore Lamanna, Ed.D, RN, ANP-BC
Lenore Lamanna, Ed.D, RN, ANP-BC, is a Nurse Practitioner in private practice in Long Island, New York. She has practiced as a Nurse Practitioner in Gastroenterology for ten years. She is also an Associate Professor in the School of Nursing…
Member Benefits and Resources
Professional Development Resources
Advanced Practice Providers Committee
Chair: Mary S. Vetter, ANP
University of Rochester
Rochester, NY
Amanda W. Charlton, NP
Consultants in Gastroenterology
Columbia, SC
Heidi Drescher, PA
Western Montana Clinic
Missoula, MT
Sarah M. Enslin, PA-C
University of Rochester
Rochester, NY
Angela T. Gieseler, PA
Saint Louis University
St. Louis, MO
Janet L. Gripshover, CRNP
Geisinger Health System
Scranton, PA
Victoria M.B. Howard, PA
University of Rochester
Rochester, NY
Rhonda D. Jankovich, NP
VA ME HCS
Augusta, ME
Michele Kissous-Hunt, PA-C
New York Gastroenterology Associates
New York, NY
Lenore Lamanna, Ed.D, RN, ANP-BC
Gastroenterology Associates Of Suffolk
Long Island, NY
Karen K. Luken, NP
Iowa Digestive Disease Center
Clive, IA
Tamara K. Lundberg, FNP, MSN
Legacy Health
Mt. Hood Gastroenterology
Gresham, OR
Keisa M. Lynch, DNP, APRN, FNP
University of Utah
Salt Lake City, UT
Sharon R. Magalona, NP
Reddy GI Associates
Mesa, AZ
Gabriella McCarty, NP
North Shore Gastoenterology
Westlake, OH
Gina Mileo, NP
NYU Langone Medical Center
New York, NY
Nicole Mitchell, NP
Capital Digestive Care
Rockville, MD
Rebecca S. Mooney, CRNP
GBMC Gastroenterology Health Partners
Baltimore, MD
Monica R. Nandwani, DNP, RN, FNP-BC
Standford Health Care
Redwood City, CA
Kimberly D. Orleck, PA-C
Atlanta Gastroenterology Associates
Atlanta, GA
Sarah C. O'Neil, PA
Weill Cornell Medicine
New York, NY
Jannine A. Purcell, CNP
Christus Trinity Clinic
Tyler, TX
Karen P. Perls, PA
Palo Alto Medical Foundation
Mountain View, CA
Alfred T. Reyno, PA
Los Alamitos Gastroenterology Medical Associates
La Habra, CA
Shayla A. Schoenoff, PA
Mayo Clinic
Rochester, MN
Leslie A. Shaw, PA-C
University Hospitals
Cleveland, OH
Sarah W. Sherman, NP
Richmond Gastroenterology Associates
Richmond, VA
Margot R. Sweed, CRNP
Philadelphia VA Medical Center
Philadelphia, PA
Jason J. Thomas, PA
Seton Hill University
Greensburg, PA
Margaret A. Walker, PA
Swedish Medical Group
Seattle, WA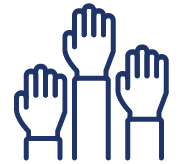 ACG Committees
Join the APP or other
ACG Committees.