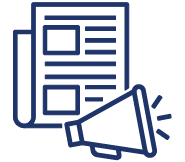 ACG press releases and
position statements.
Media Inquiries
Please email mediaonly [at] gi [dot] org
to reach the Communications Team.
For journalists interested in
media statements and alerts
on digestive health topics.
News from ACG

The American Journal of Gastroenterology is the #1 clinical journal in gastroenterology and hepatology, providing practical and professional support for the GI clinician.
Clinical and Translational Gastroenterology is a peer-reviewed open access online journal dedicated to innovative clinical work in the field of gastroenterology and hepatology.

ACG Case Reports Journal is an open-access online journal publishing gastroenterology and hepatology case reports.
The College is honored to join the World Gastroenterology Organisation (WGO) in observing World Digestive Health Day (WDHD) on Sunday, May 29, 2022.  ACG supports WGO in its objectives to raise global understanding of recent epidemiologic trends and risk factors for CRC and to support efforts to resume and optimize CRC screening efforts around the world.
Read More